Desalination Plant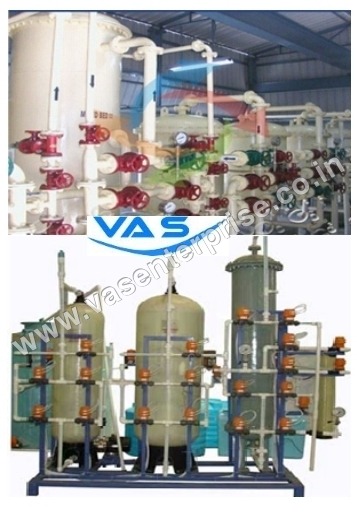 Desalination Plant
Product Description
Desalination Plant refers to the method of eliminating amount of minerals and salt from the saline water. Desalination process is applied to make the saline water fresh that can be further used for irrigation and human consumption. It is considered as the highly economical way of attaining pure water for human use. Apart from, recycling wastewater, Desalination Plant is also useful for some rainfall independent water sources.
Features:
Separate salts from water
Use less energy than thermal distillation
Energy intensive
Further Details:

We are manufacturer and exporter of desalination plant based on ion exchange technology. It comprises two vessels filled with strong base cation exchange resin and strong acid anion exchange resin. They are available in a range of diameters.
Mix Bed Plant is based on ion exchange technology. It contains single vessel filled with cation exchange resin and anion exchange resin. This system works as a polisher unit and it is giving best quality of water. System would produce IP grade water.
VAS offer DM & MB plant for various sectors:
Pharmaceutical

Power plant

Oil & Gas

Chemical industries

Textile industries
Trade Information
12 Week

Africa, Middle East, Asia